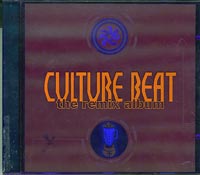 Culture beat: The Remix Album - £12.00
The Remix Album by Culture beat is on the Dance Poo label and for sale on CDLists.co.uk in CD format for just £12.00. It is a second-hand CD with a catalogue number of 4741010 2 and the condition is very good condition. It comes with the original case and inserts unless stated in the condition field below.
---
title:
The Remix Album
genre:
Dance/Techno
published year:
1994
label:
Dance Poo
cat no:
4741010 2
isbn:
format:
CD
comment:
Great pop dance album of remixed songs some great work here and this version is in a rare blue jewel case with the logo screen printed on.
condition:
very good condition
The Remix Album Track List:
1 Der Erdbeermund (Get into Magic Mix) 8.09
2 No Deeper Meaning (Technology Mix) 4.04
3 I Like You(Zulu-Mix) 7.08
4 Tell Me that You Wait (First Class Mix) 7.30
5 Mr. Vain (Mr. House) 6.18
6 Got to Get It (Hypnotic Mix) 7.17
7 Anything (Trancemix) 6.30
8 World in Your Hands (MKM's Danish Flex Mix) 6.23
9 Adelante! (MKM's Danish Flex Mix) 6.30
10 Adelante! (Butcher Mix) 7.57
11 DMC-Megamix 6.33
more music by:
Culture beat
SOLD OUT -
buy the CD from AMAZON:
Culture beat The Remix Album
BUY Culture beat MP3s from AMAZON