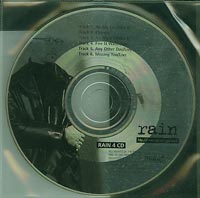 Rain : All my life - £1.50
All my life by Rain is on the Blast label and for sale on CDLists.co.uk in CDs format for just £1.50. It is a second-hand CDs with a catalogue number of Rain 4CD and the condition is CD has a few light marks . It comes with the original case and inserts unless stated in the condition field below.
---
title:
All my life
genre:
Dance/Techno
published year:
label:
Blast
cat no:
Rain 4CD
isbn:
format:
CDs
comment:
no sleeve/insert just original cd in plastic sleeve.
condition:
CD has a few light marks
All my life Track List:
1 All my life (Mix a) 2 Change 3 All my life (mix b) 4 Fure and water (live) 5 Any other day (live) 6 Missing you (live)
more music by:
Rain
IN STOCK BUY Rain : All my life from cdlists using paypal
price:
&pound 1.50
Not happy with the Price? Click here to Make me an offer