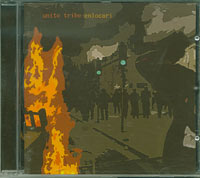 Unite Tribe: Enlocari - £7.00
Enlocari by Unite Tribe is on the Rastafenian Records label and for sale on CDLists.co.uk in CD format for just £7.00. It is a second-hand CD with a catalogue number of RASF CDLP001 and the condition is As new played once. It comes with the original case and inserts unless stated in the condition field below.
---
title:
Enlocari
genre:
Reggae/Ska/Dub
published year:
2007
label:
Rastafenian Records
cat no:
RASF CDLP001
isbn:
634479502590
format:
CD
comment:
condition:
As new played once
Enlocari Track List:
1. Invasion of Edinburgh
2. It s About Time
3. Head Police
4. The Medgar Evers Blues
5. New Wave Red
6. Life & Death
7. Are You A Terrorist?
8. I m Just Waiting
9. The Tune
10. All Our Woes
11. Dont Let Your Envy...
more music by:
Unite Tribe
IN STOCK BUY Unite Tribe: Enlocari from cdlists using paypal
price:
&pound 7.00
Not happy with the Price? Click here to Make me an offer