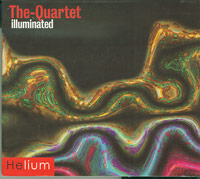 The Quartet: Illuminated - £5.99
Illuminated by The Quartet is on the Helium label and for sale on CDLists.co.uk in CD format for just £5.99. It is a second-hand CD with a catalogue number of He0 and the condition is As new played once. It comes with the original case and inserts unless stated in the condition field below.
---
title:
Illuminated
genre:
Jazz
published year:
2006
label:
Helium
cat no:
He0
isbn:
5030094138223
format:
CD
comment:
condition:
As new played once
Illuminated Track List:
1. Magonia Heights
2. Falujah
3. Waltz For Mel
4. Brahms Blues
5. Miles Off
6. Nervous?
more music by:
The Quartet
SOLD OUT -
buy the CD from AMAZON:
The Quartet Illuminated
BUY The Quartet MP3s from AMAZON