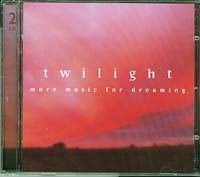 Various: Twilight - More Music for Dreaming - £5.00
Twilight - More Music for Dreaming by Various is on the E.M.I label and for sale on CDLists.co.uk in 2xCD format for just £5.00. It is a second-hand 2xCD with a catalogue number of 7243 5 61546 2 9 and the condition is As new. It comes with the original case and inserts unless stated in the condition field below.
---
title:
Twilight - More Music for Dreaming
genre:
Classical
published year:
1999
label:
E.M.I
cat no:
7243 5 61546 2 9
isbn:
724356154629
format:
2xCD
comment:
condition:
As new
Twilight - More Music for Dreaming Track List:
Mozart - Eine Kleine Nachtmusik -II Romance
Schumann - Traumerei
Dvorak - Rusalka - Song to the moon
JS Bach - Air on the G String
Elgar - Chanson de nuit
Mozart Clarinet Concerto in A - II Adagio
Britten Serenade for tenor, horn, and strings - 6 sonnet
Gluck - Dance of the blessed Spirits
Chopin - Nocturne No2 in E flast
Bruch Violin Concerto No1 in G Minor - II Adagio
Offenbach - The Tales of Hoffmann - barcorolle
Chopin Eude in E Tristesse
Delius - To be sung of a summer night on the water
Saint Saens - The swan
Humperdinck - Hansel and Gretel - Evening Prayer

CD2
Brahms - Lullaby
Mozart -Piano Concerto No21 in C Elvira Madigan II Andante
Puccini - Madam Butterfly - Humming Choras
Chopin - Nocturne No 10 in A flat
Elgar - Seranade in E Minor - II larghetto
Falla Nights in the Garden of Spain 1 en el Generalife
Bizet - Carmen - Act III Entr'acte
Tchaikovsky - Andante cantabile
Shostakovich - Piano Concerto No2 in F - II Andante
Britten - Four Sea Interludes - III Moonlight
Ravel - Gaspard de la Nuit - I ondine
Saint Saens - The Aquarium
Holst - the Planets - 2 venus, the bringer of peace.
more music by:
Various
IN STOCK BUY Various: Twilight - More Music for Dreaming from cdlists using paypal
price:
&pound 5.00
Not happy with the Price? Click here to Make me an offer