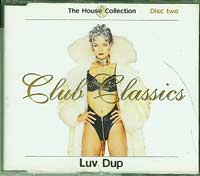 Various: Club Classics Luv Dup - £4.00
Club Classics Luv Dup by Various is on the Fantazia label and for sale on CDLists.co.uk in CD format for just £4.00. It is a second-hand CD with a catalogue number of FHCCC1 CD and the condition is Several scratches, plays fine. It comes with the original case and inserts unless stated in the condition field below.
---
title:
Club Classics Luv Dup
genre:
Dance/Techno
published year:
1996
label:
Fantazia
cat no:
FHCCC1 CD
isbn:
format:
CD
comment:
This is CD2 of a three cd package. It's the original CD with insert but the other two cds and outer box are missing.
condition:
Several scratches, plays fine
Club Classics Luv Dup Track List:
CD1 Missing
CD2 LuvDup Mix
01 Jump Funkatarium (Original Mix)
02 Sub Sub Ain't No Love (Ain't No Use) (Original Mix)
03 Hardrive Deep Inside (Original Mix)
04 Alex Party Alex Party (Saturday Night Party)
05 Tony Di Bart The Real Thing (Dance Mix)
06 LuvDup Good Time (Luv Dup Mix)
07 Rollo Goes Camping Get Off Your High Horse (Original Mix)
08 Felix Don't You Want Me (Original Mix)
09 Country & Western Positive Energy (Original Mix)
10 Soul Odyssey Rapture (Original Mix)
11 Havana High And Dry (Original Mix)
12 Brothers Love Dubs Mighty Ming (Original Mix)
13 Gipsy* I Trance You (Original Mix)
14 Eddy Someday (Diesel & Ether Mix)

CD3 MISSING
more music by:
Various
IN STOCK BUY Various: Club Classics Luv Dup from cdlists using paypal
price:
&pound 4.00
Not happy with the Price? Click here to Make me an offer