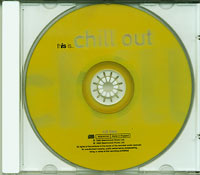 Various: This is Chill Out Vol 1 - £2.00
This is Chill Out Vol 1 by Various is on the Beechwood label and for sale on CDLists.co.uk in CD format for just £2.00. It is a second-hand CD with a catalogue number of BEBOXCD27 and the condition is Excellent condition . It comes with the original case and inserts unless stated in the condition field below.
---
title:
This is Chill Out Vol 1
genre:
Trance
published year:
1999
label:
Beechwood
cat no:
BEBOXCD27
isbn:
format:
CD
comment:
This is for CD2 of a three CD set (CD1 and CD3 are missing) The CD is original (not copy) no jewel case, no sleeve or inserts, just CD alone.
condition:
Excellent condition
This is Chill Out Vol 1 Track List:
CD1 MISSING
CD2
01 Fatboy Slim The Weekend Starts Here (6:42)
02 Cornershop Sleep On The Left Side (Ashley Beedle's Right Hand Mix) (5:41)
03 Doppelganger (2) Junk (4:54)04 Boo Radleys, The Lazarus (Augustus Pablo Mix) (6:25)
05 G.S.M. Calm Storm (5:56)
06 Edge Of Motion Memories Of The Future (13:02)
07 Regular Fries Mars Hotel (Psychonauts Mix) (9:18)
08 Freezone Rock It (5:15)
09 A Man Called Adam Estelle (6:48)
10 Smoke City Underwater Love (3:59)
11 Purple Nine Moodswings (5:06)
CD3 MISSING
more music by:
Various
IN STOCK BUY Various: This is Chill Out Vol 1 from cdlists using paypal
price:
&pound 2.00
Not happy with the Price? Click here to Make me an offer