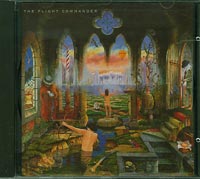 Flight Commander: A room full of this - £7.50
A room full of this by Flight Commander is on the Cosmic Dice label and for sale on CDLists.co.uk in CD format for just £7.50. It is a second-hand CD with a catalogue number of Game 01 and the condition is . It comes with the original case and inserts unless stated in the condition field below.
---
title:
A room full of this
genre:
Experimental
published year:
1993
label:
Cosmic Dice
cat no:
Game 01
isbn:
5.02E+012
format:
CD
comment:
Mad album with odd samples and dark voices from Simon Hinkler of the Mission and Mark Goldthorpe of Artery and The. A classic and limited edition that's really hard to find these days.
condition:
A room full of this Track List:
Epilogue
The Waterwheel
A Dark Heart
A Room Full of This
Planecrash on the Sun
Slingshot Buzzard
In the Arc of the Bow
Lazy
Time to Let Go
Meanwhile Thirty Years Later
more music by:
Flight Commander
SOLD OUT -
buy the CD from AMAZON:
Flight Commander A room full of this
BUY Flight Commander MP3s from AMAZON