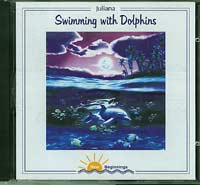 Juliana: Swimming with Dolphins - £5.00
Swimming with Dolphins by Juliana is on the New beginning label and for sale on CDLists.co.uk in CD format for just £5.00. It is a second-hand CD with a catalogue number of ASC 305 CD and the condition is Light scratch, plays fine. It comes with the original case and inserts unless stated in the condition field below.
---
title:
Swimming with Dolphins
genre:
Ambient/New Age
published year:
1998
label:
New beginning
cat no:
ASC 305 CD
isbn:
5029344224724
format:
CD
comment:
ombining the talents of pianist and composer James Harry, with the vocalist Juliana, 'Swimming with Dolphins' is an album of gentle and melodic compositions and a pure, angelic voice. As effortlessly as her harmonies change, you can feel yourself unwind.
condition:
Light scratch, plays fine
Swimming with Dolphins Track List:
1. Swimming with Dolphins
2. My River
3. Holly
4. Ghost
5. Box of Clouds
6. My Secret Garden
7. Fair Child
8. Ivory Peace
9. Following You
10. Box of Clouds (Reprise)
more music by:
Juliana
IN STOCK BUY Juliana: Swimming with Dolphins from cdlists using paypal
price:
&pound 5.00
Not happy with the Price? Click here to Make me an offer