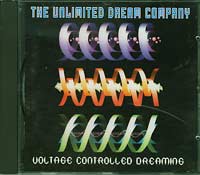 Unlimited Dream Company: Voltage Controlled - £2.94
Voltage Controlled by Unlimited Dream Company is on the Jumpin & Pumpin label and for sale on CDLists.co.uk in CD format for just £2.94. It is a second-hand CD with a catalogue number of CD TOT 24 and the condition is few very light scratches. It comes with the original case and inserts unless stated in the condition field below.
---
title:
Voltage Controlled
genre:
Trance
published year:
1995
label:
Jumpin & Pumpin
cat no:
CD TOT 24
isbn:
5013993902423
format:
CD
comment:
Rare trance album with superb pulsating melodic beats and female vocals.
condition:
few very light scratches
Voltage Controlled Track List:
1. Up in dub heaven
72. Shore gardens
73. As one door closes
74. Potion takes effect
75. If I should step
7 6. Feel like I'm falling
77. The Scenic root
78. Sandoz by moonlight
79. No headaches
10 Up in Dub Heaven
more music by:
Unlimited Dream Company
SOLD OUT -
buy the CD from AMAZON:
Unlimited Dream Company Voltage Controlled
BUY Unlimited Dream Company MP3s from AMAZON