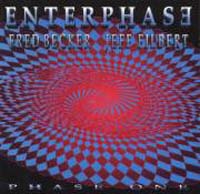 Enterphase: Phase one - £2.60
Phase one by Enterphase is on the Gladden Pictures label and for sale on CDLists.co.uk in CD format for just £2.60. It is a second-hand CD with a catalogue number of AD14 and the condition is excellent , as new. It comes with the original case and inserts unless stated in the condition field below.
---
title:
Phase one
genre:
Electronic
published year:
1994
label:
Gladden Pictures
cat no:
AD14
isbn:
format:
CD
comment:
very rare deleted album by Fred Becker and Jeff Filbert. The first three tracks are delicate keyboard pieces with atmospheric electronics achieving a dreamy approximation of interstellar space. The fourth track is appropriately entitled "Blue Shift" for its comin'atcha sequencers; the pace is quite uptempo here. The last track is a 27 minute epic track that claims (in liner notes) to be "presented in the grand manner as a long cosmic anthem to space music" --and how true that is, being a constant pulse sequence akin to an early Heldon trance, underlaid with sparkling electronics of a particularly tectonic nature.Eclectic, improvised sequencer based electronic music from USA duo, similar in style to early Tangerine Dream or Klaus Schulze and a big seller in the mid 90's.
condition:
excellent , as new
more music by:
Enterphase
SOLD OUT -
buy the CD from AMAZON:
Enterphase Phase one
BUY Enterphase MP3s from AMAZON