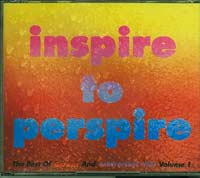 Various: Inspire to Perspire - £3.00
Inspire to Perspire by Various is on the Sweat label and for sale on CDLists.co.uk in 3xCD format for just £3.00. It is a second-hand 3xCD with a catalogue number of SCDLP1 and the condition is very good condition. It comes with the original case and inserts unless stated in the condition field below.
---
title:
Inspire to Perspire
genre:
Dance/Techno
published year:
1996
label:
Sweat
cat no:
SCDLP1
isbn:
5023743002525
format:
3xCD
comment:
DJ Friendly Triple CD in hinged thick pack CD box
condition:
very good condition
Inspire to Perspire Track List:
DISC 1:
DJ Face Mix

DISC 2:
Johan S Mix

DISC 3:
Johan S. presents Integrated Society - We lift Our Voices (Johan S. Club Edit)
Key To Life featuring Sabrina Johnson - Forever
Vicki Martin - Not Going to Do It '96 (Johan S. radio Edit)
Circle Line - A Better Way
New Deep Society - Warehouse (Days Of Glory) (Banana Republics' Coool Club Mix)
Philip Ramirez - Higher (Banana Republic's Club Vocal Mix)
Fusion Beats - Song Of the City
Johan S. - Da Mental Groove 9. Anorak Trax - Jazz Ride
Psychotropic - Hypnosis 96 (Brian's Free The Funk Mix)
Malone & Mollison - To The Rhythm.
more music by:
Various
SOLD OUT -
buy the 3xCD from AMAZON:
Various Inspire to Perspire
BUY Various MP3s from AMAZON