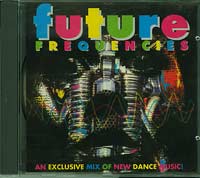 Various: Future Frequencies - £5.00
Future Frequencies by Various is on the Transmission label and for sale on CDLists.co.uk in CD format for just £5.00. It is a second-hand CD with a catalogue number of TRANS CD2 and the condition is very good condition. It comes with the original case and inserts unless stated in the condition field below.
---
title:
Future Frequencies
genre:
Dance/Techno
published year:
1993
label:
Transmission
cat no:
TRANS CD2
isbn:
5019148023654
format:
CD
comment:
condition:
very good condition
Future Frequencies Track List:
Headman - 303OD
Virus - I can feel it
Accumulator - GNU
OB 8 - happy Planet
Cirque Du Soleil - Organik
Katzenjammer- skance
Ability U - Rainy Lovin
Two Minds -Smile in your eyes
West India Company - Sweet is the sound of love
MIC - Session drummer
PSI Dimension - Brainbomb
Ceramic - Bounce! Bounce! Bounce!
more music by:
Various
SOLD OUT -
buy the CD from AMAZON:
Various Future Frequencies
BUY Various MP3s from AMAZON