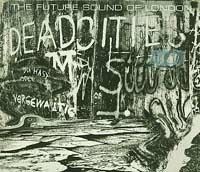 Future sound of London : Dead Cities - £0.95
Dead Cities by Future sound of London is on the Virgin Records label and for sale on CDLists.co.uk in CD format for just £0.95. It is a second-hand CD with a catalogue number of CDVX 2814 and the condition is Several scratches but plays fine, book excellent, sleeve excellent, card outer case tatty on edges a. It comes with the original case and inserts unless stated in the condition field below.
---
title:
Dead Cities
genre:
Electronic
published year:
1996
label:
Virgin Records
cat no:
CDVX 2814
isbn:
724384223120
format:
CD
comment:
Limited to 10,000 copies. Comes with a 196 page artwork booklet.
condition:
Several scratches but plays fine, book excellent, sleeve excellent, card outer case tatty on edges a
Dead Cities Track List:
1. Herd Killing
2. Dead Cities
3. Her Face Forms In Summertime
4. We Have Explosive
5. Everyone In The World Is Doing Something Without Me
6. My Kingdom
7. Max
8. Antique Toy
9. Quagmire
10. In A State Of Permanent Abyss
11. Glass
12. Yage
13. Vit Drowning
14. Through Your Gills I Breathe
15. First Death In The Family
more music by:
Future sound of London
SOLD OUT -
buy the CD from AMAZON:
Future sound of London Dead Cities
BUY Future sound of London MP3s from AMAZON