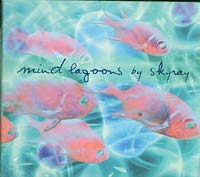 Skyray: Mind lagoons - £2.98
Mind lagoons by Skyray is on the Ochre Records label and for sale on CDLists.co.uk in CD format for just £2.98. It is a second-hand CD with a catalogue number of och011lcd and the condition is Very small scuffs almost new. It comes with the original case and inserts unless stated in the condition field below.
---
title:
Mind lagoons
genre:
Electronic
published year:
1999
label:
Ochre Records
cat no:
och011lcd
isbn:
5031531010119
format:
CD
comment:
Card sleeved album by Paul Simpson ex Teardrop Explodes/Wild Swans. Wonderfully beautiful.
condition:
Very small scuffs almost new
Mind lagoons Track List:
1. Sunset Lovedrone
2. Jet Stream Summer
3. Bikini Atoll
4. Sunken Ships
5. Mind Lagoons
6. Marine Light Interlude
7. Ornate Flame Terminal
8. Girl In A Birdcage
9. Starry Dome
10. Fragments
11. Jet Stream (Vapour Trail)
12. Aloha Sunset Lovedrone
more music by:
Skyray
SOLD OUT -
buy the CD from AMAZON:
Skyray Mind lagoons
BUY Skyray MP3s from AMAZON