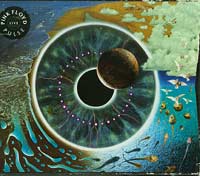 Pink Floyd: Pulse - £10.00
Pulse by Pink Floyd is on the E.M.I label and for sale on CDLists.co.uk in CD format for just £10.00. It is a second-hand CD with a catalogue number of CD EMD 1078 and the condition is Wear around edges but great for collector. Cds have some light scratches, but they both play fine. It comes with the original case and inserts unless stated in the condition field below.
---
title:
Pulse
genre:
Rock
published year:
1995
label:
E.M.I
cat no:
CD EMD 1078
isbn:
724383270026
format:
CD
comment:
Original boxed version with LED (battery flat) booklet and thick card insert.
condition:
Wear around edges but great for collector. Cds have some light scratches, but they both play fine
Pulse Track List:
1. Shine On You Crazy Diamond
2. Astronomy Domine
3. What Do You Want From Me
4. Learning To Fly
5. Keep Talking
6. Coming Back To Life
7. Hey You
8. Great Day For Freedom
9. Sorrow
10. High Hopes
11. Another Brick In The Wall

CD2
1. Speak To Me
2. Breathe
3. On The Run
4. Time
5. Great Gig In The Sky
6. Money
7. Us And Them
8. Any Colour You Like
9. Brain Damage
10. Eclipse
11. Wish You Were Here
12. Comfortably Numb
13. Run Like Hell
more music by:
Pink Floyd
SOLD OUT -
buy the CD from AMAZON:
Pink Floyd Pulse
BUY Pink Floyd MP3s from AMAZON