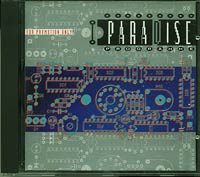 Paradise Programme : - £3.50
by Paradise Programme is on the Dance Poo label and for sale on CDLists.co.uk in CD format for just £3.50. It is a second-hand CD with a catalogue number of SAMPCD 1463 and the condition is Very Good condition. It comes with the original case and inserts unless stated in the condition field below.
---
title:
genre:
Dance/Techno
published year:
1991
label:
Dance Poo
cat no:
SAMPCD 1463
isbn:
format:
CD
comment:
Rare promo album from half of Jam & Spoon Jam El Mar. excellent find for J&S collector.
condition:
Very Good condition
Track List:
00:38 Welcome To The Paradise Programme
04:20 New Jerusalem (7in Mix)
04:28 The Rain (7in)
04:39 Deep Green (LP Edit)
06:26 Praying To The Virus (Moody Mix)
06:16 Paradise Programme (12in CUT)
05:38 Get Into The Grid (Album Mix)
06:23 Total War (12in Vocal)
05:17 Paradise Infinity (7in Version)
00:18 Power Ending
08:44 The Rain (12in)
06:41 Praying To The Virus (Club Mix)
06:21 Get Into The Grid (12in Dub)
06:29 Total War (12in Bonus Snares)
more music by:
Paradise Programme
SORRY IS SOLD OUT ON CDLISTS
BUY Paradise Programme MP3s from AMAZON