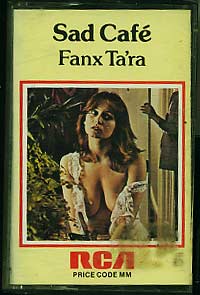 Sad Cafe: Fanx Tara - £5.00
Fanx Tara by Sad Cafe is on the RCA label and for sale on CDLists.co.uk in cassette format for just £5.00. It is a second-hand cassette with a catalogue number of PK 25101 and the condition is Very good condition. It comes with the original case and inserts unless stated in the condition field below.
---
title:
Fanx Tara
genre:
Rock
published year:
1977
label:
RCA
cat no:
PK 25101
isbn:
format:
cassette
comment:
It used to sound great
condition:
Very good condition
Fanx Tara Track List:
Babylon
Shellshock
Hungry Eyes
Shadow on the Wall
Black Rose
The Further Adventures of the Mad Alan
Fanx Tara
Flingus? Holiday
Immortal
Sail On
Clumbidextrous
I Believe (Love Will Survive).
more music by:
Sad Cafe
IN STOCK BUY Sad Cafe: Fanx Tara from cdlists using paypal
price:
&pound 5.00
Not happy with the Price? Click here to Make me an offer